That's how it happens – you sleep peacefully at home, wake up, and a dog is snuffling in your bed, who just came in to ask for affection and attention. This happened to an American family.
One night in early May, American Julie Thornton Johnson woke up because of strange sounds. At the same moment, she turned in bed and saw a dog snuffling nearby-but it wasn't her dog. Neither she nor her husband had ever seen this dog before – and she lay peacefully and looked at the couple with innocent eyes. The couple already has three dogs, and they assumed that the guest ran in, smelling the smell of other pets.
While the husband and wife were wondering how this miracle could be in their bed, the dog lay quietly and asked for affection. Apparently, the dog ran into the house through the half-open door. It was raining outside, and the couple thought that the dog could get lost – especially since it was obvious from the affectionate behavior of the animal that the dog was domestic. They left the animal for the night, and the next day they began to look for owners.
The woman posted several photos of the dog in local animal search groups. She waited for several hours, but then finally received a message from the concerned owners! They said that the dog's name is Nala, and she got lost during a walk two days ago. The excited owners were upset and were looking for a favorite – and were happy to see her photo.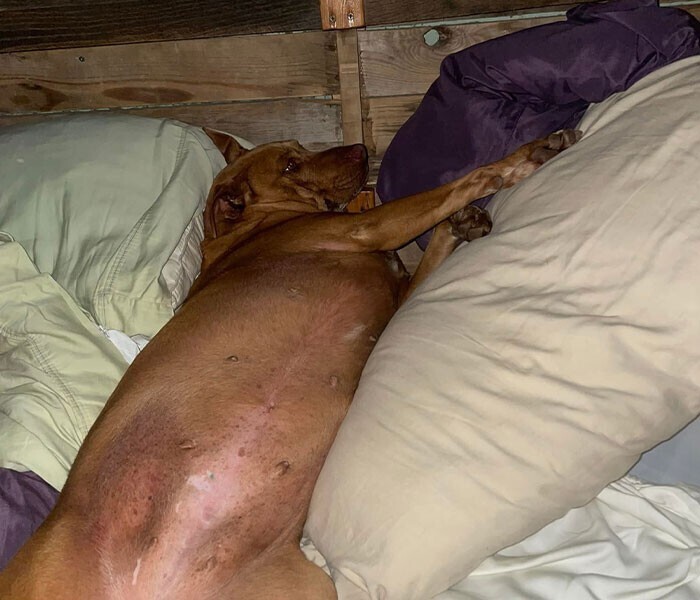 Nala was very lucky – she went to the right house! Julie took care of her when, as the owners of another house, they could have just kicked the dog out. That day, Nala was reunited with her family, and she was safely taken home: "Nala knew that our house was a safe place. The owner picked her up the same day, it was a touching meeting. She was apologizing and thought we were angry because the dog broke into our house, but it's quite the opposite. The main thing is that everyone is safe. And we love to do good deeds," Julie said.