A dying woman who loves deer was surprised in her bed with a fawn — and the bittersweet moment was captured on camera.
Lisa McDonald and her sister have been caring for their sick mother, who has been in palliative care. They were looking for ways to make her final days special — and were inspired by their mother's lifelong obsession with the classic Disney film, Bambi.
"My mum has been a lover of deer her whole life. She has bambi statues everywhere she is wearing a bambi T-shirt in her bed and will be cremated in one too. My sister and I and the rest of the family that are supporting us are also wearing bambi tshirts we are calling them our nursing uniforms."
As the mother's health deteriorated, the family decided to surprise her with a very visit from a real-life Bambi — an actual deer!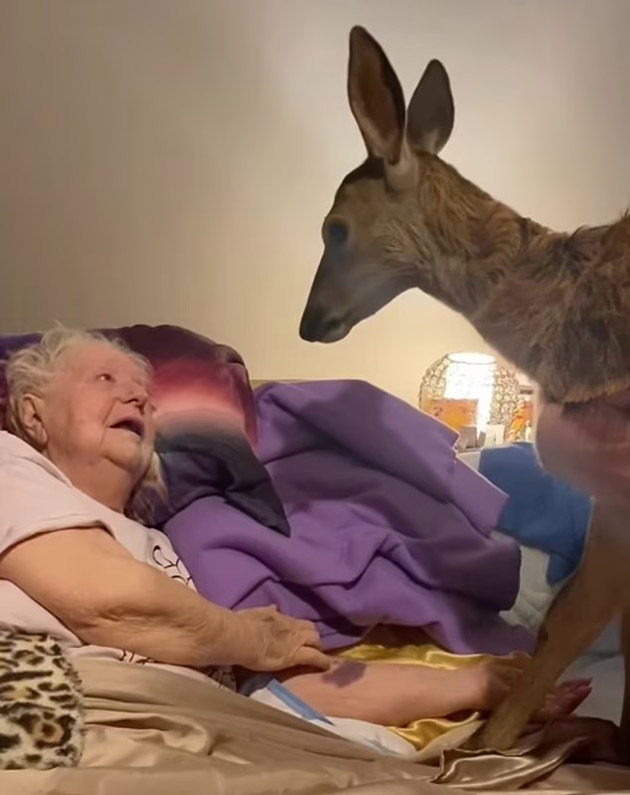 When the deer enters the room, the old woman is overjoyed and stunned with surprise.
The deer, who happens to be named "Bambi," came from a petting farm operated by a couple named Chris and Simone. The deer was orphaned and hand-raised by the couple.
Lisa writes that they paid a special visit, driving two hours from Melbourne "out of pure love and kindness" just to bring some joy to the deer-loving old woman.
The owners of the farm dropped everything to bring the deer to McDonald's mother.
"Simone and Chris didn't hesitate they drove 2 1/2 hours to bring bambi to meet mum. Out of pure love and kindness. I cannot thank them enough for what they have done for my mum and my family," McDonald said.
It's clear how much Bambi and deer have meant to this woman's life, and the visit was certainly a highlight of her final days.
Four days later, McDonald's mother passed away peacefully.