After learning that his beloved pet has cancer in an incurable stage, Robert Kugler decided not to despair and not to start grieving ahead of time. Instead, he took and went with the dog on a journey across the country to fill the rest of her life with joy and new experiences. They have been traveling together for more than a year and look really happy.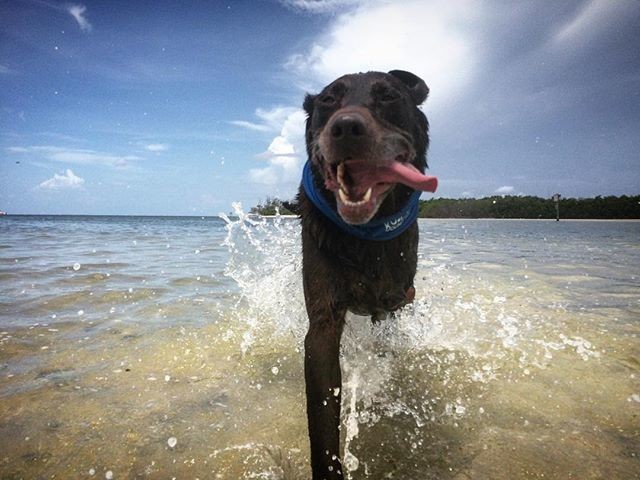 A chocolate labrador named Bella lived with her owner Robert Kugler in Nebraska. She was diagnosed with cancer last year. The doctors said she would live no longer than six months.
"I was told the worst news imaginable. That she has osteosarcoma and is progressing. The disease has already affected her lungs. I was offered either to amputate her paw, or to put her to sleep."
Robert could not imagine life without his pet and agreed to amputation. The dog lived with him for nine years. And the guy, who just graduated from the military academy with a degree in marine veterinarian, decided to go on a trip with Bella.
First they came to the Marine Corps Ball in Chicago. And then continued on his way to the east and northeast of the USA. From there, Robert and Bella went to Florida, and then to Kansas City, where the man was offered a job in a local veterans organization.
"We stayed there for about three months, working. And Bella was still with me. There was so much life in her. So when the chance presented itself, I decided to finish the southern route and we went to North Carolina."
Since then, they have not stopped and travel all over the country. More than a year has passed since the Labrador was diagnosed, and Bella remains cheerful and cheerful.
Along the way, Robert does various small jobs to get money for the trip. Often he and Bella get to know the locals and make new friends.
Robert believes that traveling with a dog helped him survive the deaths of his brother, who died in Iraq, and his sister, who died in a car accident. The guy is going to travel with Bella for as long as he can.