The tiny dog, not even two months old, wandered the streets in despair, picking up scraps. Weak, emaciated and covered in scabies crust, the little one miraculously survived without proper care or treatment…
This story happened in Sri Lanka. People noticed a puppy on the street in a terrible condition. It was a little girl, emaciated and weak, covered in scabies and in need of urgent help.
The dog was afraid of people, but it was obvious that it really wanted to ask them for help. One day the residents couldn't take it anymore, and someone called the rescuers at the Underdogs Srilanka shelter. Staff members named Elisabetta and Vanessa immediately rushed out to pick up the puppy.
"The dog was terrified of us. We tried to give it food and pet it. It was heartbreaking because it was very afraid to let anyone near it," says Elisabetta.
But still, women managed to appease the baby – they wrapped the dog in the blanket and took them to the shelter. Employees determined that Sally about 2 months. It suffered from severe scabies, and it was immediately intensively treated with baths.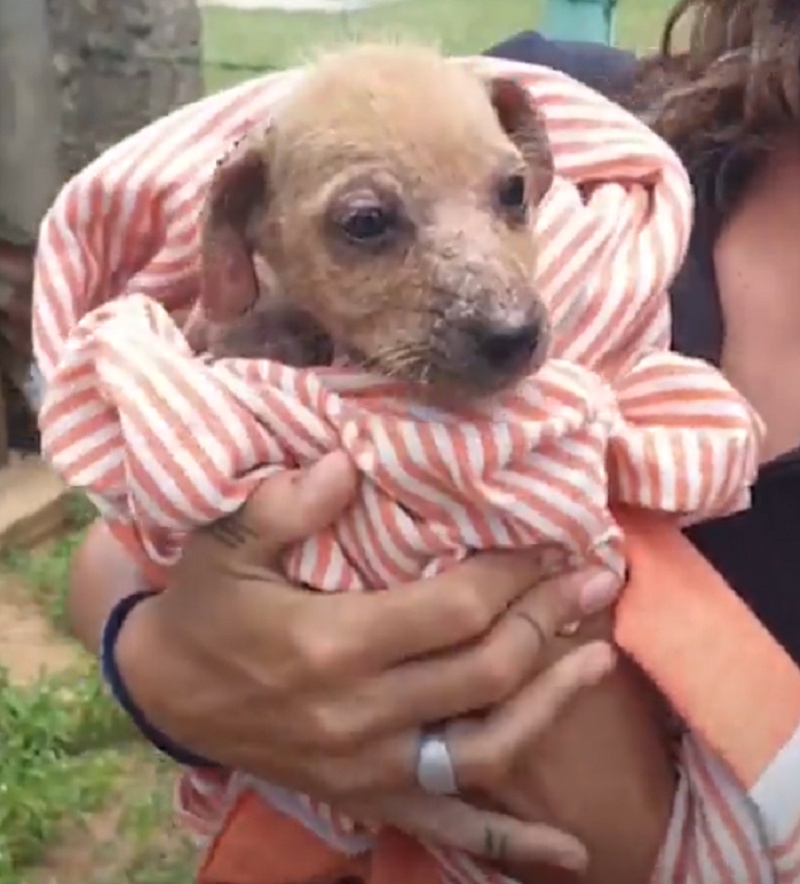 The daily baths with the medicine, care and good nutrition were paying off – Sally was becoming more lively and happier. The dog was still afraid of people, but it knew that it was safe here, as it was getting better after each treatment.
Elisabetta took the puppy into temporary care, where Sally began to recover even more. The dog got used to people, showed character, and grew up. Soon the little doggy grew a fur coat and became a beauty.
When Sally recovered and it was time to return from the temporary care place to the shelter, Laura realised that she had become very attached to the dog. Even though she has nine dogs living with her, she decided to keep the cutie!
Sally now lives happily with a loving owner and its nine siblings. The dog has finally found something it never dreamed of a while ago, wandering the streets in despair. Many thanks to the kind people for saving its life!