Unfortunately, there are often situations where people buy puppies online from unscrupulous breeders. As a result, innocent animals have to suffer. This is exactly what happened to beautiful Beau, who was infected with a serious virus.
When Dalmatian Beau was just a puppy, it was put up for sale on the internet. The puppy was quickly bought by a family but was returned almost immediately.
The dog was sick and its owners could not pay for its treatment – so Beau was taken to the RSPCA's rescue centre in the UK's Millbrook district.
The vets determined that the dog had parvovirus, a serious disease that can lead to death and is common in dogs bought online or from unscrupulous breeders.
"Unfortunately, we often encounter situations where people buy puppies online without caring about some information. Often puppies get sick because they were not vaccinated in time," say representatives of the centre.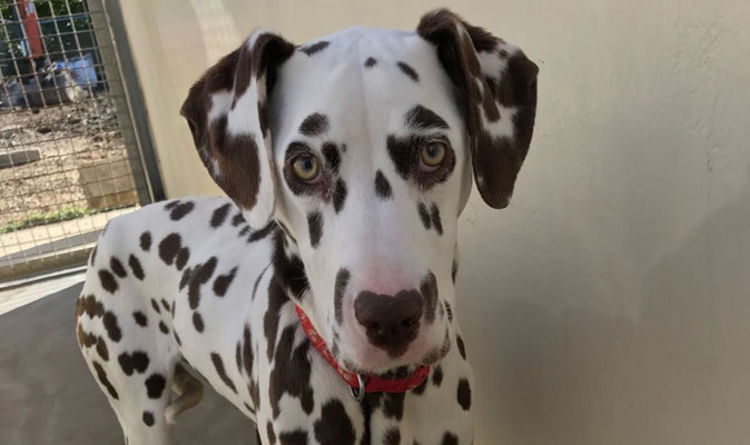 To prevent the dangerous virus from spreading to other dogs, Beau was isolated for a month. Fortunately, it was cured of the disease, but during the isolation, the dog's character changed. It did not know some basic puppy skills and could not communicate with its fellow dogs.
After a while, Beau recovered and a suitable family was found for it. But unable to cope with the emotional dog, it was brought back again – explaining this by the fact that Beau was too afraid of everything around it.
Most of all it was afraid of going through doors and was terrified of people it didn't know. The staff realized that more work was needed on Beau.
The staff came up with a way to help Beau get rid of its fears and anxieties.
In one of the rooms at the centre, a semblance of a normal flat was recreated for it. This is how it has gradually become accustomed to loud noises such as the TV, the kettle and other appliances, so that it is not afraid of them in its new home.
Every day Beau was less emotional about all the sounds, and soon it was completely used to the new surroundings. This is how the staff fostered its confidence, and it seems to have worked!
The centre decided that Beau was ready for a new family and started looking for owners. This time, a woman saw the dog. Trudy Camp had been a dog rescue for many years and had recently lost her two beloved Dalmatians. When she heard Beau's story, she took the poor creature in almost immediately.
When Beau first arrived at the woman's home, it was evident that some fears remained – for example, the dog was afraid to go through the door.
But the new owner was not confused – every time, until Beau got used to it, she took the dog in her arms and carried it through the doors. In time, this beauty realised that it was loved here – which meant there was nothing to be afraid of!
"As a puppy, it was sick a lot, so it literally missed its childhood. Because of that, Beau is a child at heart," said Trudy.
After a month in its new home, Beau was unrecognisable – it was not afraid of anything and was not afraid of any doors. It has an attentive and caring little sister whom it loves to play with.
A kind and loving owner with a big heart took away all its fears, and Beau was finally able to be itself – a happy, playful, full of energy dog!